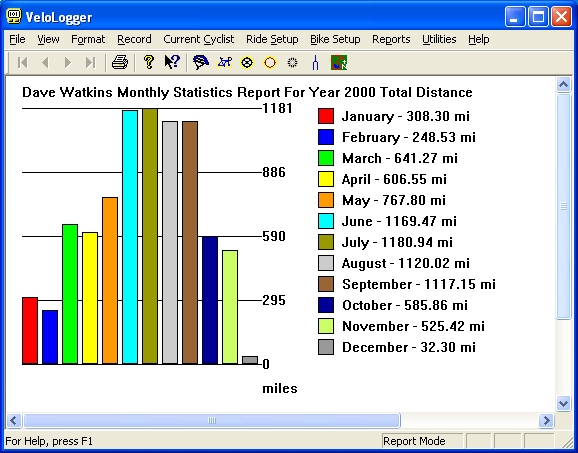 (click on picture for full view)
VeloLogger™ is a personal Cycling Journal and Maintenance Log designed for cyclists of all levels, from the beginner to the serious cyclist. By logging your personal ride data with VeloLogger™, you have instant access to view trends in performance, monthly and yearly totals/averages, etc., via the many available reports. VeloLogger™ contains fields for storing many personal attributes of a ride. You do not have to enter data in all of the fields, just enter the data you wish to track.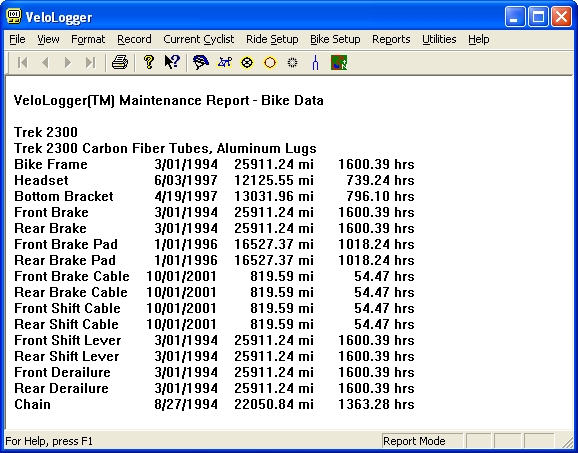 (click on picture for full view)
VeloLogger™ gives you instant access to maintenance reports for viewing time and distance on all of your bikes and their components. The maintenance features of VeloLogger™ are useful even if you do not perform the maintenance tasks yourself. You can print out the maintenance reports and take them to your local bike shop and have your pro-shop bike mechanic recommend parts that need replaced or serviced.
Operating System
VeloLogger™ will run on the any of the following Windows® Platforms:
95, 98, ME, NT 4.0, 2000, XP Home and XP Professional Edition, *Vista (all editions 32 & 64bit), and *Windows 7 (all editions 32 & 64bit)
*Note to Vista and Windows 7 users: The Windows Help feature was no longer included in the operating systems beginning with Windows Vista. Users must go to the Microsoft Support website and download the support file so that the help file can be run. Developers (WatWare included) are prohibited from distributing this support file.